CLINIQUE GREAT SKIN, GREAT DEAL KIT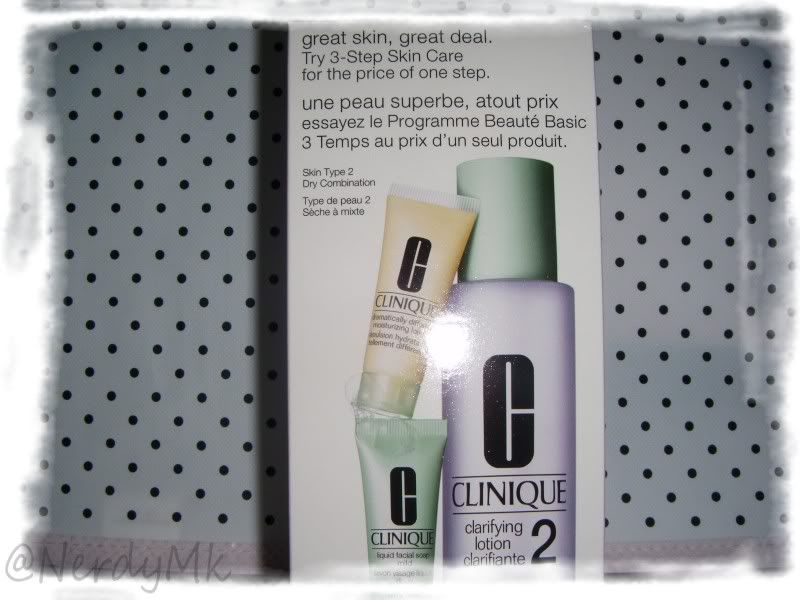 I would first like to say, I have neglected this blog as of late due to internet issues and an ongoing job search. I apologize for my absence!
This is a review for a Clinique kit purchased from Sephora purchasable here for $12.50!
Interested in knowing more? Keep reading :)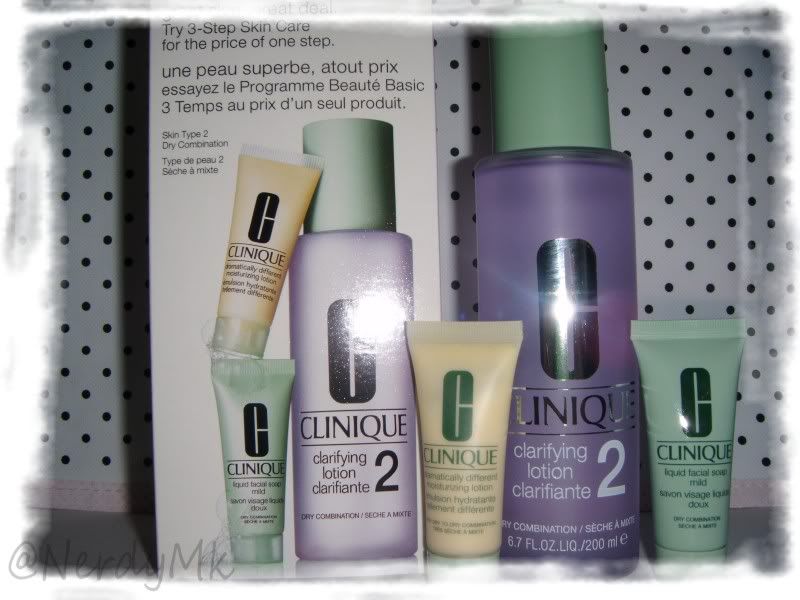 I purchased this kit in the dry - dry combination variety to suit my skin type. It also comes in oily - oily combination. The kit comes with a full sized clarifying lotion and travel sizes of the moisturizer and liquid facial soap. For $12.50 it is a really good deal. I keep the minis by my bed at night for those lazy nights.
The Clarifying Lotion has taken the place of my previous toner. It does have alcohol as an ingredient so it does have the potential to dry out your skin or irritate it if you have sensitivities to alcohol based products. This does a great job of removing any residue left over after I was my face with the liquid soap. It does feel a bit drying to my already dryish skin, but the moisturizer takes care of that problem.
This product does smell strongly of alcohol, that may irritate your nose and eyes. It doesn't particularly bother me but I'm used to alcohol based products.
The bottle is 6.7 FL OZ and is a full sized product.
I own the full sized bottle of this product, I have been using it twice daily since I purchased it in February.
This soap has a strong clinical smell to it, so it may feel like you are washing your face in a hospital room when you use it. If you can get past the smell, it is a great product. I have seen improvements in my skin since beginning to use it and I highly recommend it. It does dry your skin out a little after use. This soap is easy to rinse off after washing.
The size included in this kit is .5 FL OZ and is perfect for traveling.
I also own the full size bottle of this lotion, and use it twice daily as well. The product has a generic cosmetic smell to it. It soaks into my skin quickly and moisturizes it well.
This is also a .5 FL OZ container, perfect for travel. The kit for oily - oily combination skin includes the moisturizing gel instead of the lotion.
I have not had any breakouts caused by any of the products in this kit, and I am acne prone. I recommend this kit to anyone wanting to try out the Clinique 3-step-skincare line.
I really enjoy these products and I am truly glad I purchased them. I use to use only drugstore products but the prices have been raising and for the results I get, they were no longer worth the money. This products are not that much more expensive than drugstore products and they work wonderfully.
THE GOOD:
« The price point is excellent. $12.50 for a full size toner and two mini travel products is an excellent deal.
« No breakouts from this product. However, this is a YMMV(Your mileage may vary) fact.
« The variety for different skin types.
« The improvements I've seen in my skin. Again, YMMV.
THE BAD:
« The alcohol in the Clarifying Lotion, not the greatest for your skin.
« The strong clinical smell of the soap and strong smell of the toner.
« Travel sizes do not last long, and the tubes are not refillable.
ITS JUST ALRIGHT:
« The packaging. The toner bottle is bulky, travel sizes could be bigger.
OVERALL:
I would recommend this kit to many people, the products have worked great for me and if your skin conditions are similar to mine, these are potential holy grail items. I love these, I will be repurchasing in the future.
RATING:
« Overall: 4/5
« Packaging: 4/5
« Price: $
« Repurchase? Yes
Thanks for reading :)
COMING UP on The Lovely Nerds:
« Too Faced Tinted Beauty Balm review
« Holy Grail item series.
« Makeup Collection
PREVIOUSLY on The Lovely Nerds:
« Birthday Haul