HOLY GRAIL CHEEK PRODUCTS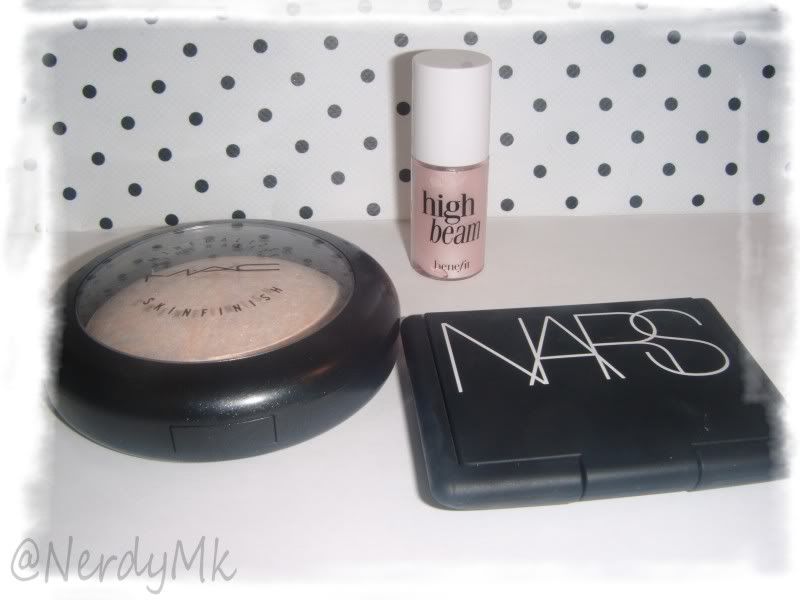 Today on The Lovely Nerds I am bringing you part 3 of my HG series. This post is featuring cheek products. Want to know more? Keep reading -->
The first product I want to talk about is Mac's Lightscapade MSF. There was a lot of crazy hype surrounding this product because it is one of Mac's most unique MSFs. Following the hype was a lot of disappointment from buyers saying it is not as good as the original release. Personally, I like this release and it is my perfect cheek/bridge/brow bone highlighter. Plus, with the amount of product in this little compact, it will last for ages.
It has a bit of an odd smell to it that I cannot really describe, and it has a small amount of powdery fallout when you dip your brush in the pan. Its pigmentation is light, but that's not a bad thing with a highlighter.
Product number two is a Nars Blush. The shade I have deemed my HG is the famous Orgasm. Now, a lot of people feel this color is over hyped, but I personally love this as a go-to blush. It gives a lovely flush to my fair skin, and the sheen is not over the top.
There is a good amount of powder fallout when putting your brush to the product, as you can see in the picture. The pigmentation is not OUTSTANDING, but it is good enough for an every day blush.
The third and final product in this post is my HG liquid highlighter. Benefit's High Beam is a wonderful liquid highlighter. The price, I find to be too much so I obtain this product in mini size from sephora sets of minis.
THE GOOD:
« High beam's pigmentation
« Orgasm's appearance on my cheeks
« Lightscapade's subtleness
THE BAD:
« Orgasm's powdery fallout
« Lightscapade's limited availability
ITS JUST ALRIGHT:
OVERALL:
I use these three products so frequently there's no way I couldn't consider them my HG cheek products :) I recommend!!
RATING:
« Price: $$$
« Repurchase? Of Course
COMING UP on The Lovely Nerds:
« Holy Grail Series - Skincare Products
PREVIOUSLY on The Lovely Nerds:
« Holy Grail Series - Face Products