COLLECTIVE HAUL - MAC + CCO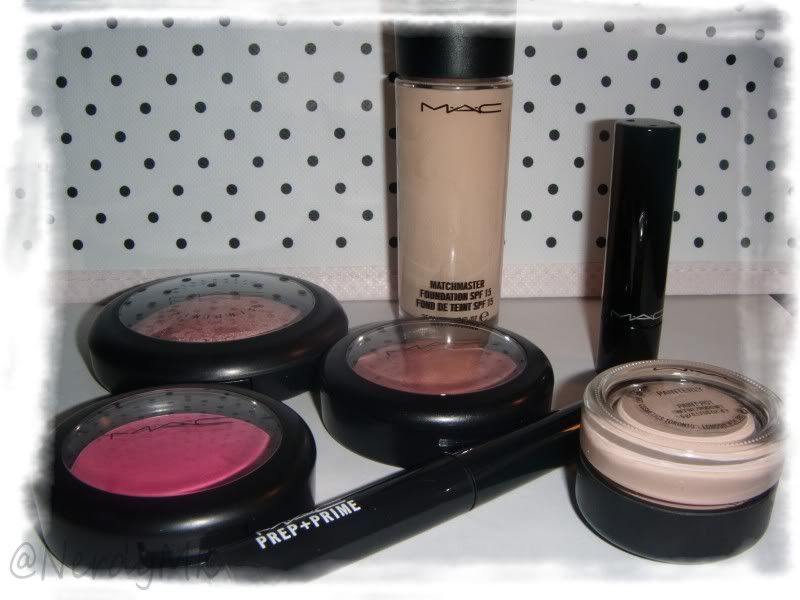 This will be my collective birthday haulage. Interested? Keep reading :)
I picked these items up at the Mac counter and CCO.
I grabbed one of the new Sheen Supreme lipsticks from Mac. I picked up the color Asian Flower. This color bears a striking resemblance to Blooming Lovely from Liberty of London.
I grabbed two Creamblend blushes in the colors Florida and Ladyblush. Loving these.
Also from the counter I picked up Painterly Paint Pot. Honestly, I'm thinking this is going to be a life changing item for me.
I also got Matchmaster foundation in shade 1.0. I didn't grab a picture of the bottle, but do have a swatch below.
And lastly, from the CCO I grabbed the Mineralized Skin Finish in Petticoat.
Swatches over no primer of any kind, this photo is with flash. Poor lighting at the moment. The colors are fairly true to life.
Left to Right: Painterly, Florida, Ladyblush, Asian Flower, Petticoat, Matchmaster 1.0.
COMING UP on The Lovely Nerds:
« Clinique Great Skin, Great Deal kit review
PREVIOUSLY on The Lovely Nerds: