This is Part Two of the biggest haul I've ever done. It may not be a huge haul to some people, but to me it is pretty big and I am excited to share it with you. If you are curious, keep reading -->
This is a quick overview of what I received from Sephora. I got the Urban Decay all nighter spray, Clinique Liquid face soap, Clinique Dramatically Different Moisturizing Lotion, Caudaile Cleansing Water, Clinique Good Skin, Good Deal set, Illamasqua Panic blush, Nars Gaiety blush and a 100pt perk Korres Mascara.
This is the Clinique liquid soap. So far, I am liking this.
Dramatically Different Moisturizing Lotion. I also like this a lot so far, it does smell a bit odd though.
Good deal, Good skin kit. This really is a good deal. It cost 12.50 on Sephora.com and you get a full sized clarifying lotion plus travel sizes of the liquid soap and lotion.
Urban Decay All Nighter Spray. Cannot express how much I love this product. I originally had the travel size to try it, fell in love and ordered the full sized bottle.
Caudalie cleansing water. I got this in the smaller size (3.4 oz) to try it out as my Lancome one is running out.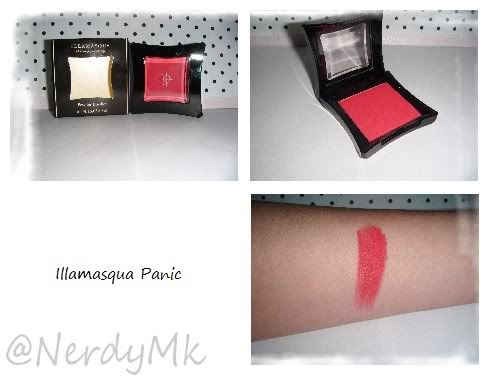 Illamasqua Panic. A Sephora exclusive shade, and oh my word is it RED.
The newest Nars blush, Gaiety. This is a very light blush, but it is very lovely on.
100pt perk Korres mascara.
As always, reviews to come for all of these products in the future as well as FOTDs using the color items. Any requests for a specific review to be first or a specific FOTD, please let me know :)
COMING UP on The Lovely Nerds:
« Sugarpill Burning Heart Quad review
PREVIOUSLY on The Lovely Nerds: