SMACKDOWN: UNDEREYE CONCEALERS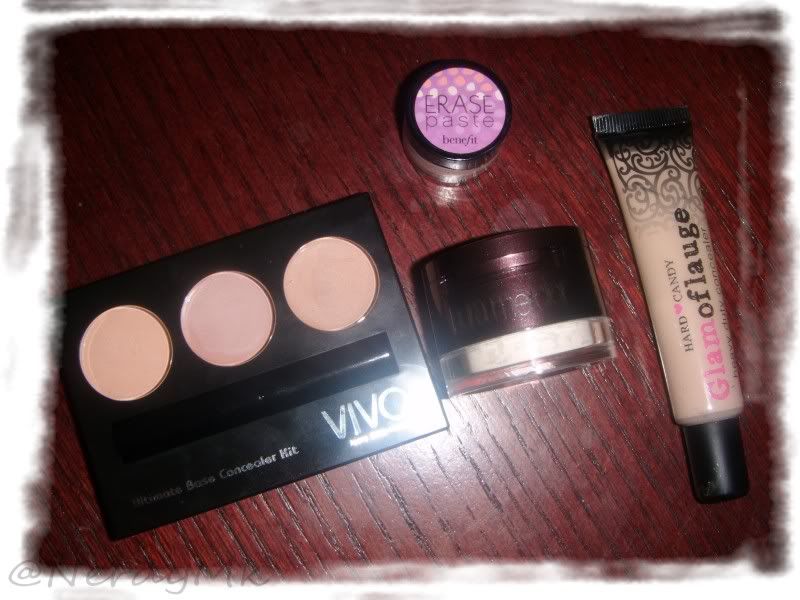 Today on The Lovely Nerds I am bringing you a smackdown post featuring undereye concealers.
The products in question: Vivo concealer kit, Benefit Erase Paste, Hard Candy Glamoflauge, and Laura Mercier Undercover Pot. Want to know more? Keep reading -->
The shades I use in these products are 02 in Erase Paste, Light in Glamoflauge, and I think 2 in the Undercover pot. The Vivo shade is unknown as it is not listed on the packaging.
Swatches, unblended: Vivo kit, Laura Mercier Undercover Pot, Benefit Erase Paste, Hard Candy Glamoflauge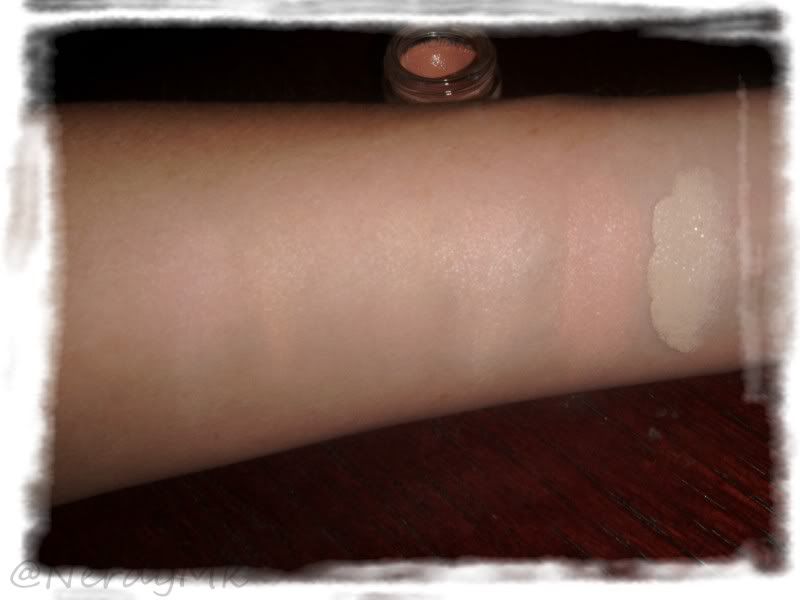 Swatches blended out, same order as above.
Vivo: As you can see from the swatches, the Vivo concealer virtually disappears on my skin once blended out. I generally use the more salmony shade under my eyes but have found that both shades work well to hide my circles. It is a long lasting product and has minimal creasing. I have found that if I wait about a minute after applying the concealer under my eyes and then blend out the "crease" of product, it stays away all day. This product did not become cakey on my skin. Vivo is available in the UK.
Laura Mercier Undercover Pot: This product is very light and is a light coverage concealer. The salmon shade does work wonderfully under eyes and I had the same experience with it as I did with the Vivo. The other shade, however, is a very dry product and I find it very hard to work with. It covers blemishes well, if you can get any product out of the pot. The first time I used it the pan actually stuck to my finger and lifted right out of the container. The setting powder with this kit is the very same I've purchased on its own to set my liquid foundation. Love it.
Benefit Erase Paste: This is a much thicker, more full coverage concealer than the previous two. It is a VERY salmon shade that appears to be way too dark for my skin tone. With that said, if I use the product sparingly and make sure to blend it well using the same one minute wait technique as with the other two, it blends seamlessly into my skin and hides my circles wonderfully. Setting it with a powder is a must. Too much powder will cause it to cake up though.
Hard Candy Glamoflauge: This product... I very rarely reach for. It is by far the most full coverage of the concealers in this post. The light shade is too light for me, and one step up is far too dark. It comes in a very limited range of shades. It takes a dot the size of a ball point pen tip to cover the area under both of my eyes. If I use any more than that it cakes up in an instant and looks awful. It is almost like applying PAINT under your eyes it is so thick. It lasts a while and if you can find a shade match and master using it, it is a great product.
Overall, my favorite concealer out of these products is the Benefit Erase Paste. For me, it lasts the longest (on skin and in general in the pot) out of them all and provides the best, most natural looking finish. I just have the mini size from a Benefit kit and it has lasted me quite a long time now. I do recommend all of the products listed.
COMING UP on The Lovely Nerds:
« B&BW Haul
PREVIOUSLY on The Lovely Nerds:
«
Brush Guard Review