URBAN DECAY NAKED 2 REVIEW
Today on The Lovely Nerds I am bringing you a review of the recently(ish) released Urban Decay Naked 2 palette. I may be a little be late in posting this, but better late than never right? Want to know more? Keep reading -->
On par with the original Naked palette, this eyeshadow palette is full of neutral and flesh toned shades. One major difference is that this palette is more cool toned than the previous Naked Palette. The packaging is also different. This one comes in a metal tin with a snap closure instead of the felt and cardboard packaging with a magnetic closure. Personally, I prefer the look and feel of the original palette to this one. This one just feels bulky to me, however it is more sturdy which makes it better for traveling.
Also like its predecessor, the Naked 2 palette comes with 12 full sized eyeshadows. There is a good range of light, midtone and dark shadows included in this palette.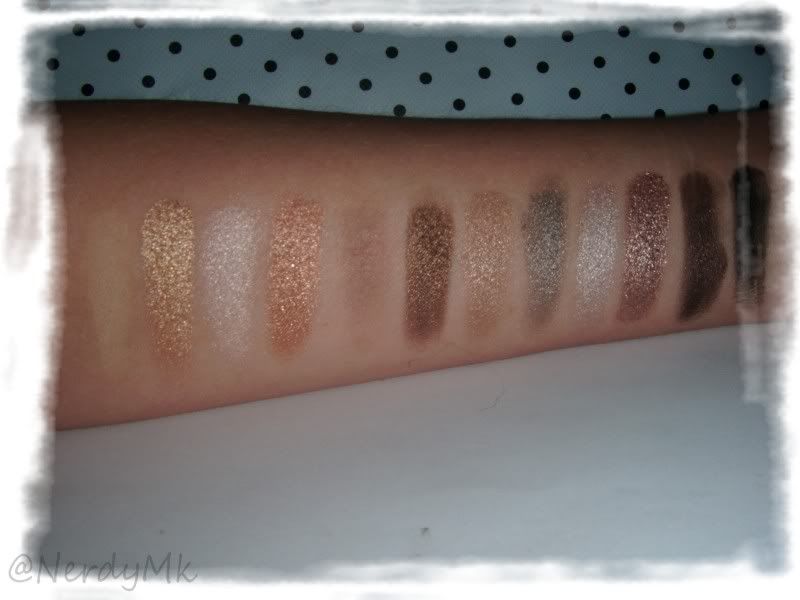 All swatches are done dry over no primer. Some of the shades swatch beautifully, others take several swipes to get the color to show. Oddly enough, even the difficult to swatch colors look wonderful on the lids.
L-R: Foxy, Half Baked, Booty Call, Chopper, Tease, Snakebite, Suspect, Pistol, Verve, YDK, Busted and Blackout.
Foxy: This matte shadow does not swatch very well, as is the same with the other matte shadows, but on the lid it makes a wonderful matte brow and inner corner h/l.
Half Baked: This shade is a really great gold, but I am getting a bit tired of seeing it in so many palettes.
Booty Call: Another wonderful h/l color from this palette.
Chopper: This shade felt rather gritty on my finger. I did not notice the same grittiness when applied to the lid, but it was very noticeable during swatching.
Tease: This shade makes a perfect blending color for this palette. As with the other mattes, it doesn't swatch well and took several swipes to get it to show.
Snakebite: This shade reminds me of Smog from the Naked 1 palette. Nice, dark outer corner deepening shade.
Suspect: I enjoy using this shade all over my lid. It is a nice midtone shade and the shimmer is not too over the top.
Pistol: One of my favorite shades from this palette, and possibly the entire reason I bought the palette, this one makes a great crease color and goes well on the lower lashline.
Verve: My other favorite shade out of this palette. I've used it on the center of my lid and it really brightens up your eyes and makes them glow.
YDK: This one felt a little bit gritty to my fingers, but went on the lids smoothly. I've used it on both the inner and outer third of the lid and it is a lovely copper shade.
Busted: A little similar to Darkhorse from Naked 1, but different enough in my opinion. Great for darkening the outer corner or lining the lashline.
Blackout: A matte black. As with the others.. it swatches poorly. Its pigmentation is not the greatest, I have seen better matte black shadows.
THE GOOD:
« Differences from the original Naked palette.
THE BAD:
« Grittiness in some shadows.
ITS JUST ALRIGHT:
« The packaging, I prefer the original.
OVERALL:
I feel this palette is different enough from Naked 1 to justify owning both. I get more use out of this one than I do the original, but I am cool toned. Do I feel that owning both is necessary? No.
RATING:
Overall: 4.5/5
Price: $$
Use: 4/5
Repurchase? Probably so.
COMING UP on The Lovely Nerds:
« Collective Mail Haul Part 1
PREVIOUSLY on The Lovely Nerds: