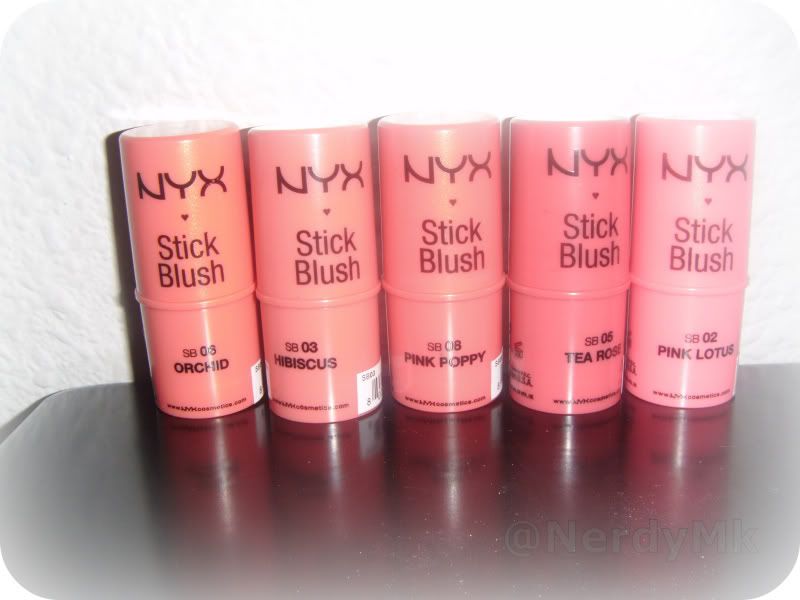 Welcome to The Lovely Nerds! Today I am bringing you a review of the New Nyx Cream Blush Sticks - I am in LOVE.
Want to know more? Keep reading -->
I purchased 5 shades of these new blush sticks. I originally bought three but I liked them so much I went back for 2 more! The shades I purchased are: Orchid, Hibiscus, Pink Poppy, Tea Rose and Pink Lotus.
Left to right: Orchid, Hibiscus, Pink Poppy, Tea Rose and Pink Lotus. These swatches are slightly heavy, being a couple of circles on the skin.
These blush sticks have no notable smell. They are soft and easily blendable. Although, they are not quite as soft as the regular Nyx cream blushes.
Three of these have a notable sheen to them. Orchid has a golden sheen and has the most prominent sheen of the three. Pink Poppy has a lighter golden sheen and Pink Lotus has a pinkish sheen as well as the lightest sheen of the three. Pink Poppy is also the sheerest shade I have purchased.
Hibiscus and Tea Rose have no notable sheen to them. Tea Rose is the most pigmented of the five.
THE GOOD:
« Blendability
« Lack of strong scent
« The price
« Color range
THE BAD:
« The cheap packaging
ITS JUST ALRIGHT:
« Can't think of anything mediocre about these blush sticks.
OVERALL:
I truly like these blush sticks. A true hit from Nyx. Currently I have Pink Poppy on my cheeks, I have been wearing it for 10 hours now and there is minimal, if any, fading in the color.
RATING:
Overall: 5/5
Price: $
Use: 4/5
Repurchase? A definite yes.
Thanks for reading :)
COMING UP on The Lovely Nerds:
« World of Warcraft inspired FOTD