NARS GAIETY REVIEW + FOTD
Today on The Lovely Nerds I am bringing you a review of the new Nars blush, Gaiety. Plus! A bonus small FOTD using it. Want to know more? Keep reading -->
This blush is available at Nars counters and retailers for $28.00. You can view the product on Sephora.com here. I ordered mine from Sephora.com.
This blush shade from Nars is a very light pink with no shimmer. Pictures do not do this shade justice.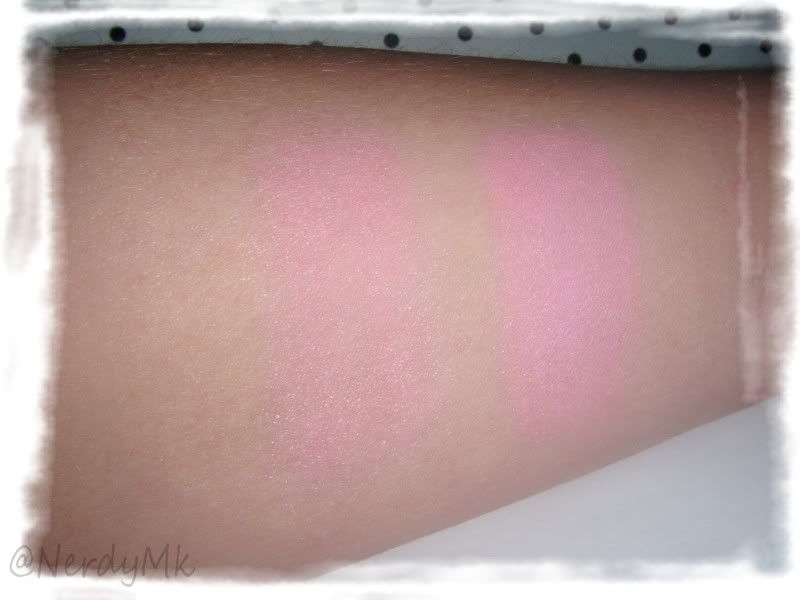 This blush is buttery, smooth and has lovely pigmentation. These are swatches of it applied lighty and heavily. It blends well as do most of Nars' blushes.
This is what the blush looks like applied to fair skin on the face.
Products used: Mac Matchmaster 1.0, KvD lipstick in Lolita, Maybelline color tattoo in Tough as Taupe, Lined/tightlined with a matte black from a Kat Von D palette, Maybelline One by One mascara, Mac Lightscapade as a brow highlight and cheek highlight, Nars Gaiety blush, and the Elf studio brow kit.
THE GOOD:
THE BAD:
« Won't really show well on darker skin tones.
« Package gets dirty easy.
ITS JUST ALRIGHT:
OVERALL:
This blush lives up to the Nars standard and is a wonderful product. I would recommend this for many medium to light skintones and just about everyone I know.
RATING:
Overall: 5/5
Price: 3/5
Use: 5/5
Repurchase? Yes.
COMING UP on The Lovely Nerds:
« Too Faced Chocolate Soleil Bronzer review
PREVIOUSLY on The Lovely Nerds: