Today on The Lovely Nerds I am showing you one of the things I use for storing my collection in, this little clear acrylic container purchased at Target. It has one medium compartment on the left, a large one in the back, four lipstick spaces in the front, and two small compartments on the right. Want to know more? Keep reading -->
These are the things that find their home here:
I generally keep things I use most often in this container. Here is a breakdown of what's inside :D
In the left compartment I keep some mascaras and a couple of eyeliners I want to use up.
In the smaller compartments on the right I have brow gels, lid primers and a mascara sample that I'm thoroughly enjoying at the moment.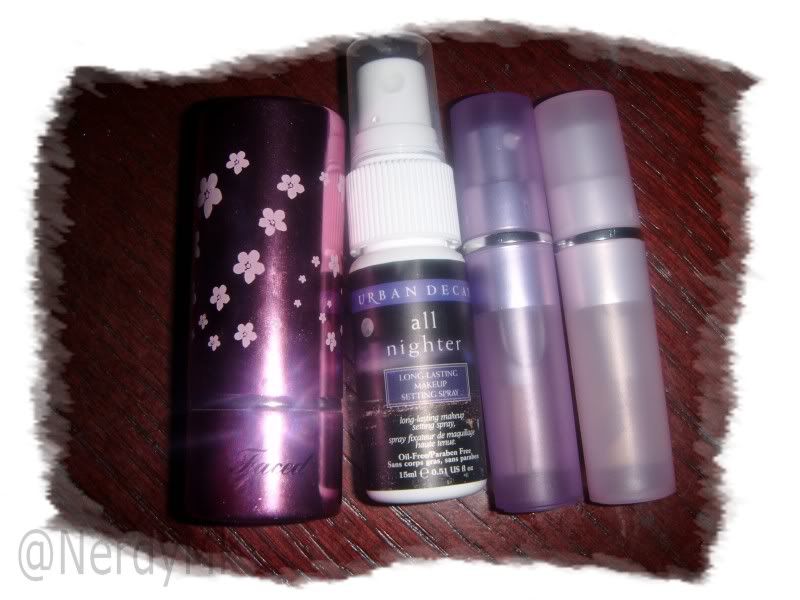 The large back compartment is home to my Too Faced retractable kabuki (I use this for my powder foundation), a deluxe travel size of Urban Decay's All Nighter spray (LOVING this!) and two refillable purse atomizers containing Clinique Happy Heart and Kat Von D's Adora perfumes.
The front lipstick compartments hold my favorite lipsticks and/or lip products I'm wanting to use up. Right now it is home to Mac's EverHip and Cyndi lipsticks, Rimmel Airy Fairy and the mini gloss from the Naked 2 palette.
THE GOOD:
« Cheap
« Compact
THE BAD:
« Can get in the way on a vanity
ITS JUST ALRIGHT:
« Compartment size
Alrighty, that's a breakdown of one of my little storage techniques. I hope you enjoyed and I hope it's helpful to someone!
RATING:
Overall: 4/5
Price: $
Use: 4/5
Repurchase: If I broke it, sure.