MAIL CALL: THEBALM NUDE'TUDE PALETTE
Today on The Lovely Nerds I am bringing you a review of what awaited me in my mailbox, TheBalm Nude'Tude palette.
My initial response to this palette is that it is a lovely selection of colors and the packaging design is nice. It's not too big but it's not itty-bitty. The shadows are a bit on the small size themselves.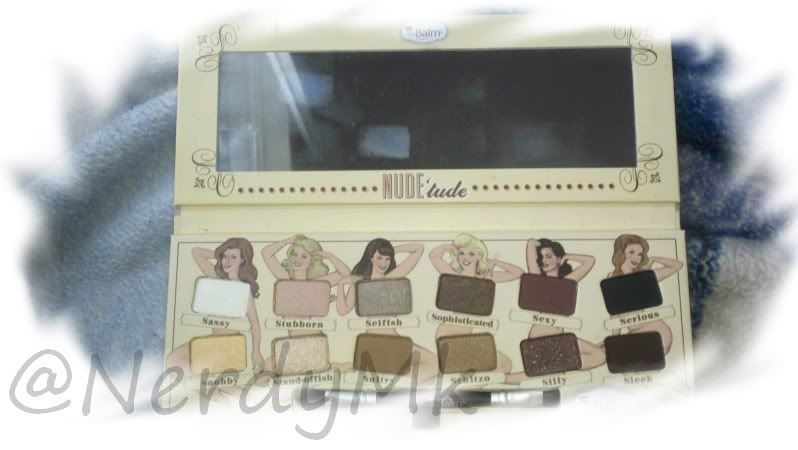 The packaging itself, however, does leave a bit to be desired. The pans are not glued in properly. Some of them are sticking out of their wells on one side. It is sturdy, however, for a cardboard palette. It made it across the country through the mail still in-tact.
The eyeshadows are nicely pigmented and soft.
Sassy: Sassy is a shimmery pearl white.
Stubborn: in a pinkish-salmon shade.
Snobby: is a light golden color, leaning heavy on the yellow side.
Stand-offish: is a very shimmery light pink.
Selfish: is a nice light taupe.
Sophisticated: is a shimmery medium brown.
Sultry: is a matte, light warm brown.
Schitzo: is a light, shimmery warm brown.
Sexy: is a matte cranberry shade.
Serious: is a matte black, a little lacking in pigmentation but still a good black.
Silly: is a shimmery cranberry-brown.
Sleek: is a matte charcoal color.
THE GOOD:
THE BAD:
ITS JUST ALRIGHT:
OVERALL:
This palette is very nice. The large mirror is useful and the shades are lovely. It's a very warm toned palette. The brush is next to useless, but they generally always are. The naughty version of this palette(the one I have) just adds a bit of flair to the palette with the naked ladies.
I would recommend this palette!
RATING:
Overall: 4.5/5
Price: $$
Use: 4/5
Repurchase? Quite possibly
COMING UP on The Lovely Nerds:
« FOTD Tutorial Featuring TheBalm Nude'Tude
PREVIOUSLY on The Lovely Nerds: