Today's post is my February Favorites. Interested? Keep reading :)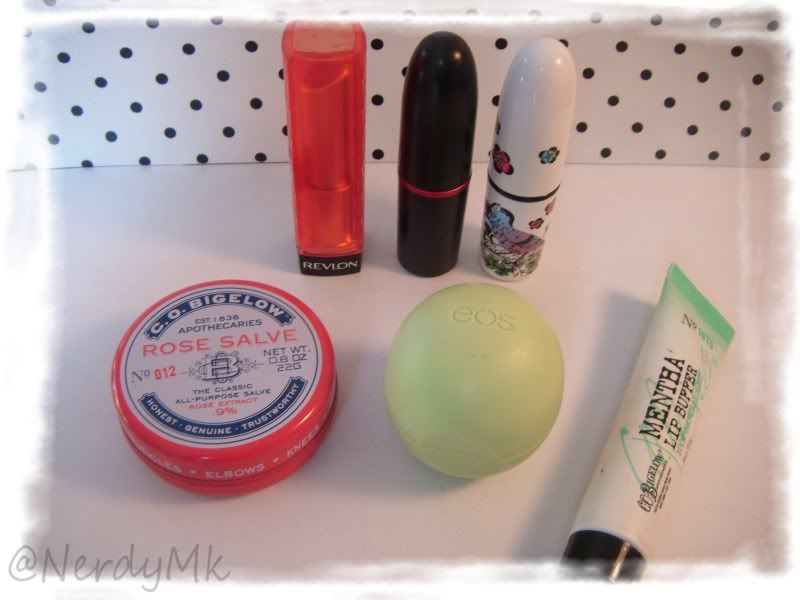 First up, We have lip products.
Revlon Lip Butter in Cherry Tart: This is a sheer, true red with no shimmer to it. I find these lip butters to be mildly moisturizing on my lips, however I suffer from severely dry winter lips at the moment. The color is lovely, the staying power is not so great.
Mac Viva Glam Cyndi: This is a discontinued Viva Glam shade from Mac, Cyndi Lauper. Viva Glam Cyndi is a lovely sheer red with no shimmer that flatters most every skin tone I've seen it on. I do not find it to be drying and it has average lasting power.
Mac Ever Hip: This is a Limited Edition shade from Mac. Ever Hip has been repromoted and will likely be again. Ever Hip is a lovely coral shade with a sheen, perfect for spring and summer wear. It is flattering on lighter skin tones and I am sure it would look wonderful on darker ones as well.
C.O. Bigelow Rosebud Salve: This is a vaseline based, multi use salve. I use this on my lips nearly every day, I also use it on my cuticles and on very dry patches on my face. The smell is mild and easily tolerable. It does have a vaseline-like consistency. It has been a miracle worker for me. I adore it and I will repurchase it once I finish it.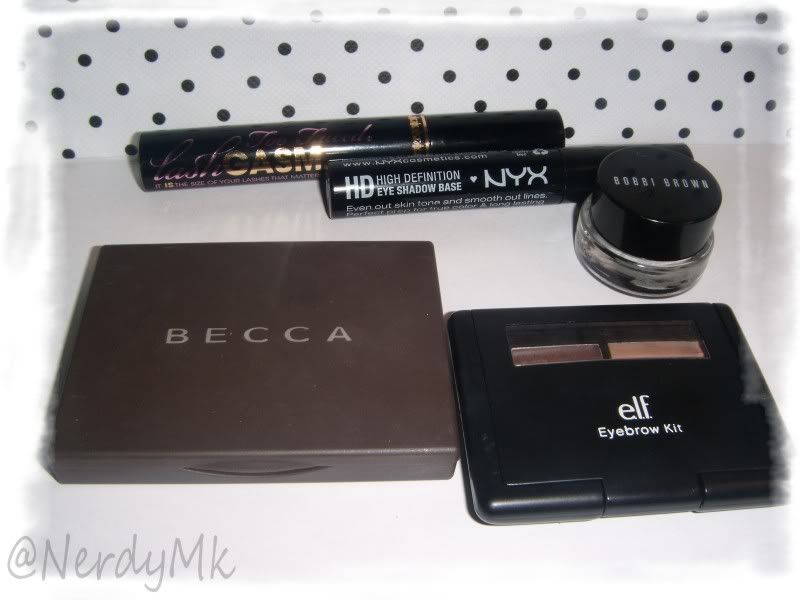 Too Faced LashGasm: I have used this mascara for around 2 years now. I have experienced no flaking or smudging with this product. It gives lovely long lashes, no volume. It is not too watery or too thick.
NYX HD Lid Primer: I have battled with primers for a while, none work well for me. I don't have overly oily lids but none of them work well. So far, this one works the best for me but I still experience creasing with this product.
BECCA Enigma Palette: This is a now discontinued palette from BECCA. It is my usual go-to palette because the neutral shades are easy to work with. I use the darkest shade as a liner and outer V color and one of the other two on the lid. Aside from the shimmer in one of the lighter shades, they look very similar on my lids so no point in using both.
Bobbi Brown Gel Liner - Black: This is the third black gel/cream liner product I ever purchased and I feel that it is a winner. It is a virtual every day, HG status item for me. I tried WnW first, that was a disappointment. I also tried Physicians Formula, while that product works great it is more of a cream than a gel and I prefer the consistency of the gel liner.
ELF Studio Brow Kit: Before purchasing this, I purchased the Too Faced Brow Envy palette. It was huge and cumbersome so I looked for a smaller alternative. I considered Benefit and Urban Decay but went with this 3.00 gem first. The gel and powder both work well, the brush included is actually useable in a pinch.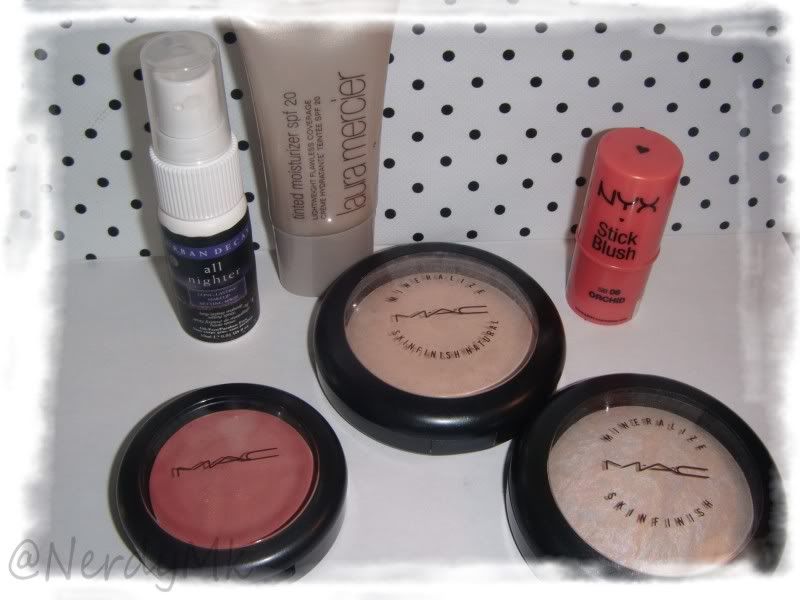 Moving on to face products.
MAC MSFN: This is another product I have been using for a couple of years. This is my go-to foundation, it leaves a satin-natural finish on my skin and lasts very long for a powder foundation. MSFN provides a light coverage, but can be medium if applied wet. It has never irritated my skin or broken me out in the time I have been using it.
Urban Decay All Nighter: This is a product I started using this month and I am in love. When I spray this over my makeup it lasts for 10+ hours without fading. I originally purchased the travel size and went on to purchase a full sized bottle.
MAC Lightscapade MSF: There was a lot of hype around this particular product and before its repromote it was highly sought after. After the hype died, a lot of people said it was really just a "meh" product. I, on the other hand, find this to be my HG highlighter. That may be because I am fair-skinned but I use this on my cheekbones, down my nose and as a brow highlight. I adore it.
NYX Blush Sticks: I have a full review of these blush sticks here: Blush Sticks. The one pictured is Orchid, which is a very close dupe of Nars Orgasm. These are great, they blend easily and last for a long time.
Laura Mercier Oil Free TM: I have been using this product for a little over six months now. The shade I have is nude, which is technically too dark for me. However, this TM is so sheer that it truly doesn't matter. It blends seamlessly into my skin and provides a light coverage. I do get greasy when using this product but it has not broken me out or irritated my skin.
MAC Creamblend Blush in Ladyblush: I got this product only recently, but have used it a few times this month and will continue to do so I am sure. It is a lovely neutral color on my skin and looks very natural on. It blends easily and lasts well. The Mac creamblend blushes work well for me on the lips as well.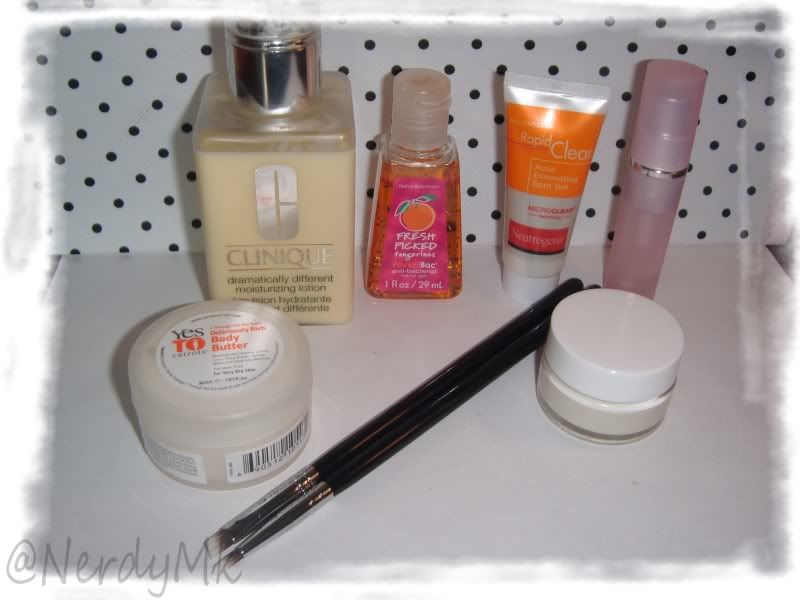 Skincare products and tools.
Clinique Dramatically Different Moisturizing Lotion: I was told that for my combo/normal skin I would prefer the DDM Gel. I purchased the lotion and I really like it. I use this in the morning and at night and my skin is nice and moisturized now in this winter weather.
Bath and Body Works PocketBac in tangerine: I love, love, love B&BW PocketBacs. The one I am currently loving is Tangerine. It smells wonderful.
Neutrogena Rapid Clear spot treatment: I have purchased this product several times over the last couple of years. It really does improve acne blemishes within a few hours.
Yes to Carrots body butter: This body butter works great for dry winter skin. It is very thick and does not smell overpowering.
Burt's Bees eye cream: A lot of people dislike this product because of the use of lanolin, this fact does not bother me. It tightens my undereye area and I do see improvement in my undereye circles after use.
Sigma E65 Small Angle Brush: This brush I acquired this month, but it has replaced my other gel liner brushes. It is angled nicely and thin enough to provide a very nice line with my gel liner. It holds its shape well when washed, does not shed and remains soft. It is a synthetic brush so it does not absorb the product like natural hair brushes.
Sigma E05 Liner Brush: This is the best pointed liner brush I have come across. It is very fine-tipped and it holds the point when being washed. It works great for tightlining.
Purse Atomizer with Clinique Happy Heart in it: I found these little purse atomizers at my local PX on sale for 20 cents. I filled them with two of my favorite perfumes, Clinique Happy Heart and Kat Von D Adora. Currently I'm loving Happy Heart, its a nice light scent and has been a favorite for a while now.
Alright, that's it for my February Favorites. Hope you enjoyed!
COMING UP on The Lovely Nerds:
« Clinique Dramatically Different Moisturizing Lotion Review
PREVIOUSLY on The Lovely Nerds: